Power up your capital to
Address Climate Issues Drive Social Equity Raise Moral Duties
Responsible Capitalism is at the hands of the asset owners to drive changes for the generations to come. They do that by investing directly in socially responsible companies or through managers with the best stewardship.
Identify
Find the like-minded investment managers
Analyze
Define a peer group, compare and deep dive
Investigate
Dive into the three-dimensional lenses
Engage
Meet the managers and validate their pitches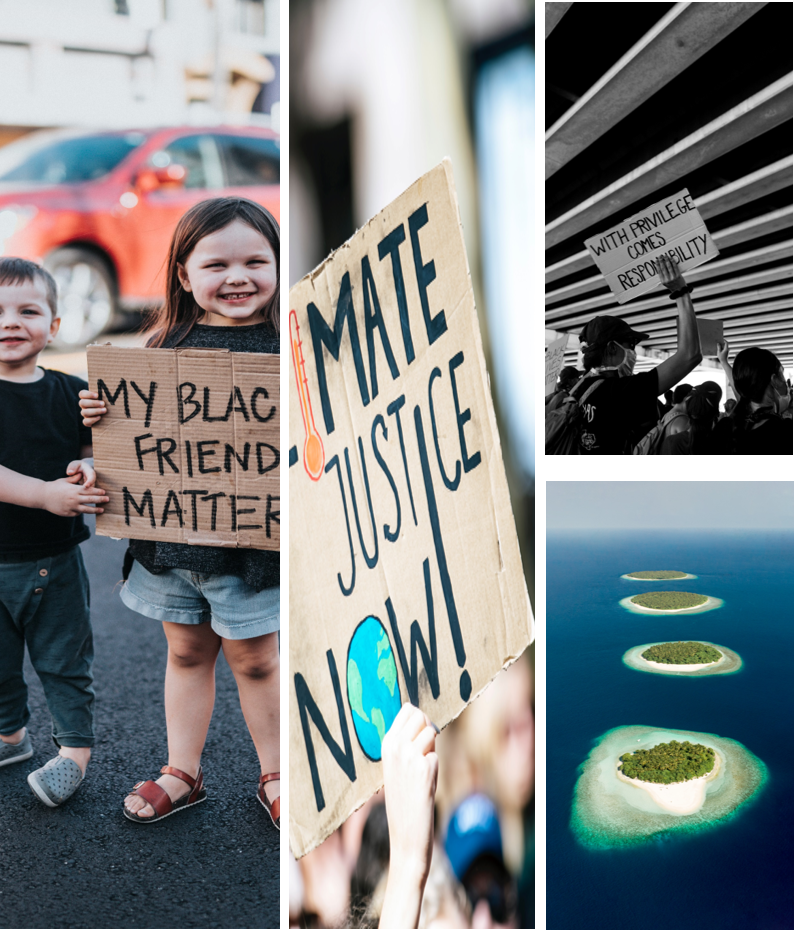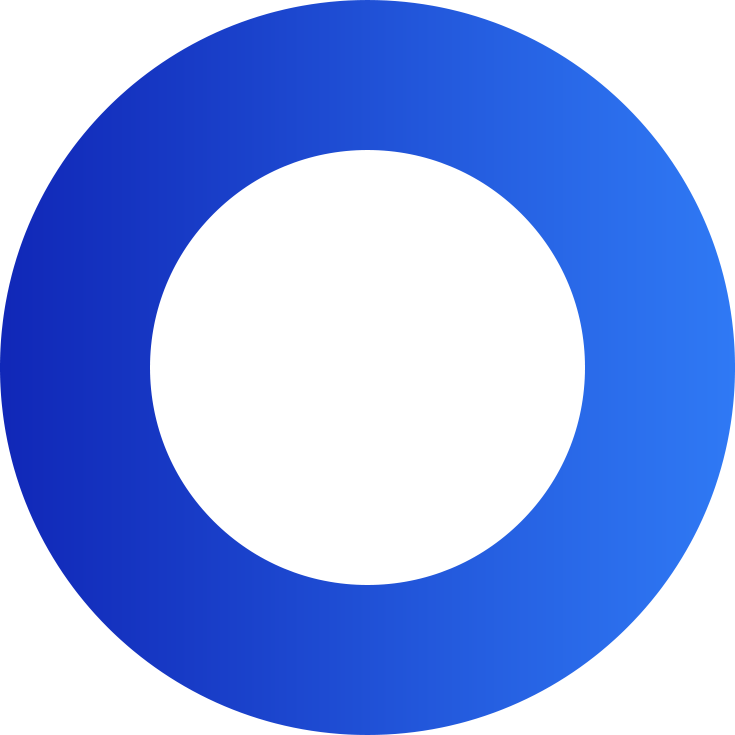 Your research partner
Identify the Best
Stewards for your Investments
As your sustainable investment objectives evolve, you want a partner who understands the behavior of the buy and sell-side of investments and focuses on your goals with genuine interests.
BlueOnion brings transparency and clarity to global funds and companies in the public market, encouraging investors to make informed and sustainable decisions.  
While many are judging their managers by hindsight performance and luck, BlueOnion serves as a third-party validator to confirm that managers are for real, walking their talks, practicing what they preach, and are exercising best stewardship for the investors' capital.
Responsible Screening
Identify The
Right Companies & Funds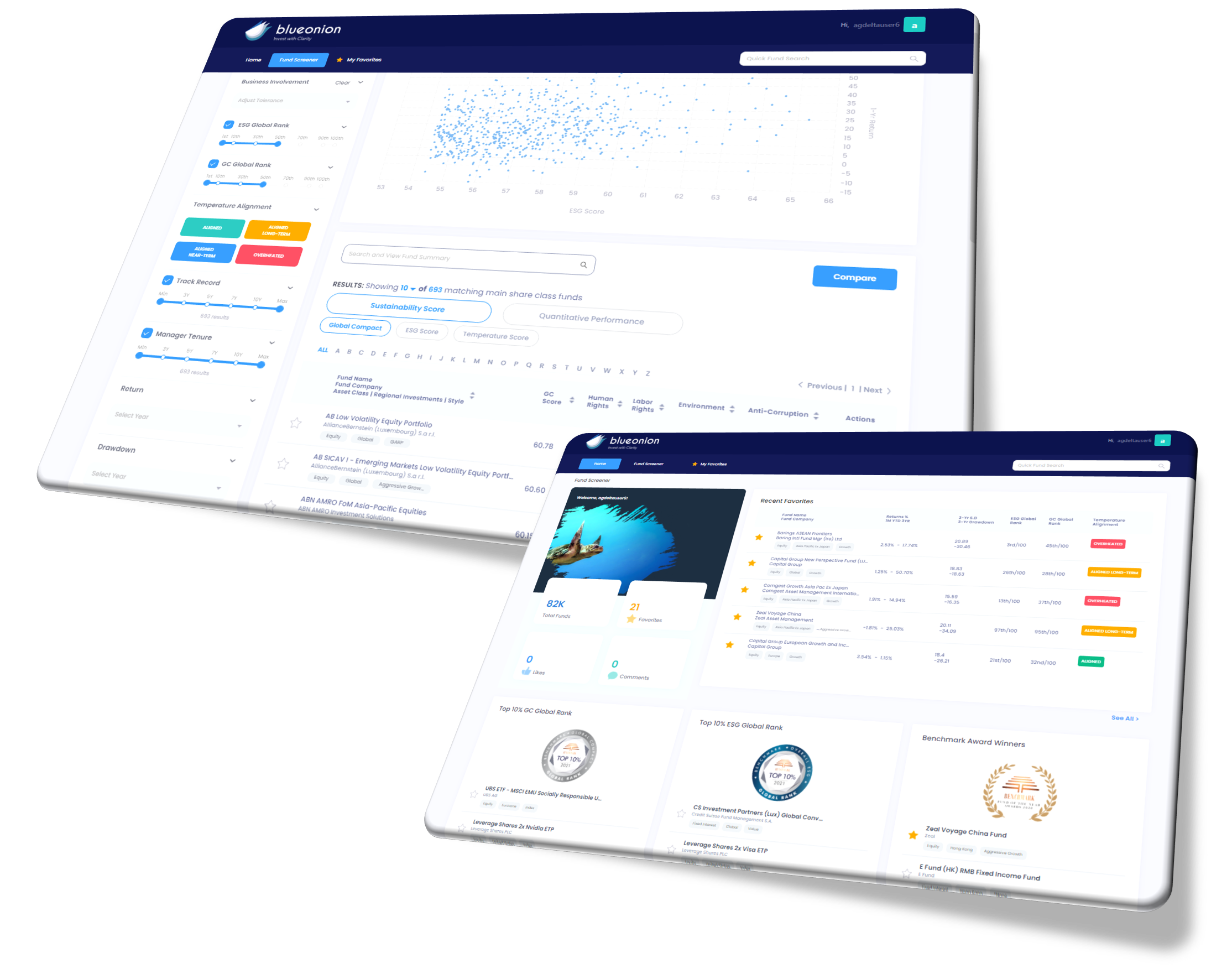 BlueOnion's advanced search allows you to identify the funds that are most ESG focused and the most temperature aligned quickly. The sustainability-based filtering tool comes bundled with the quantitative and fundamental data on a universe of 400,000 active, passive funds and ETFs and 40,000+ companies, using 250 ESG metrics from 30,000 sources in over 170 countries.  
Filtering
Use the most powerful filtering tools to zoom into the most aligned strategies by performance, personal preferences, and sustainable behavior.
Shortlisting
Build multiple portfolio watchlists for investment objectives and styles to assess over 100+ KPIs and get instant access to key fund fact pages and documentation.
Analyze
Perform in-depth
Peer analysis
BlueOnion allows you to drill deeper into a strategy. Compare funds of the same types over 50 KPIs, with 41 Qualitative metrics with 189 attributes derived from over 530 inputs of the five key pillars to understand sustainable performance's potential over the long term. In addition, 22 sustainability topics, 33 business involvement filters, and 5 forward-looking climate indicators, to help spot performers aligned to your value. 
Instant Due Diligence
Specify the due diligence reports you'd like to receive from the managers, and get instant access to private and public documentation.
Engage with managers
Connect with the manager for due diligence reports, stewardship reports, and presentation decks without being pitched directly.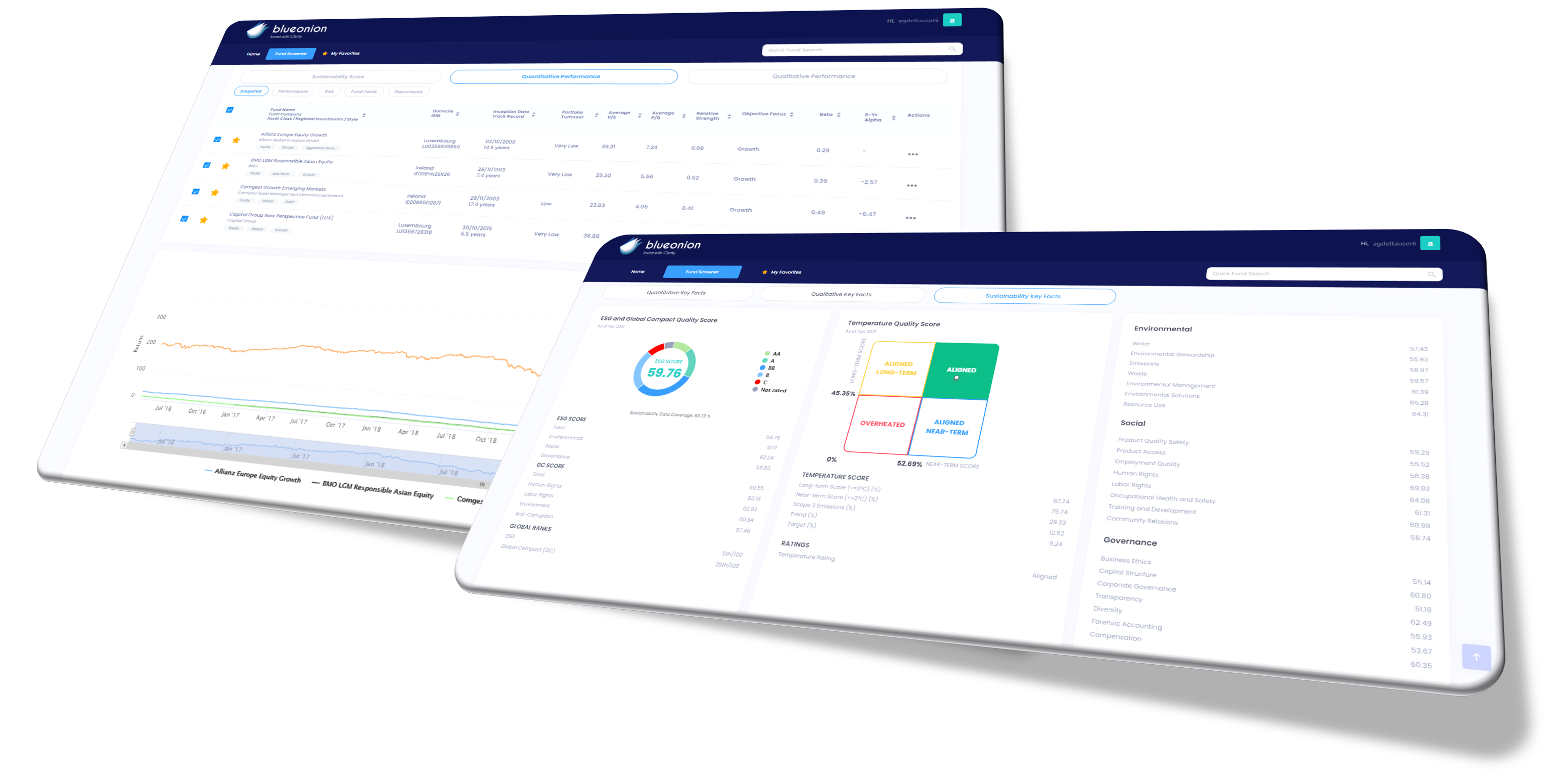 Manager Selection
Five Pillars of
Qualitative Research
The tool leverages drills deeper into a strategy. It quantifies the 41 Qualitative metrics with 189 attributes derived from over 530 inputs of the five key pillars to understand sustainable performance's potential over the long term. The feature layer aggregates hundreds of inputs along the five critical pillars of a fund's qualitative strength, rather than relying on hindsight and past performances.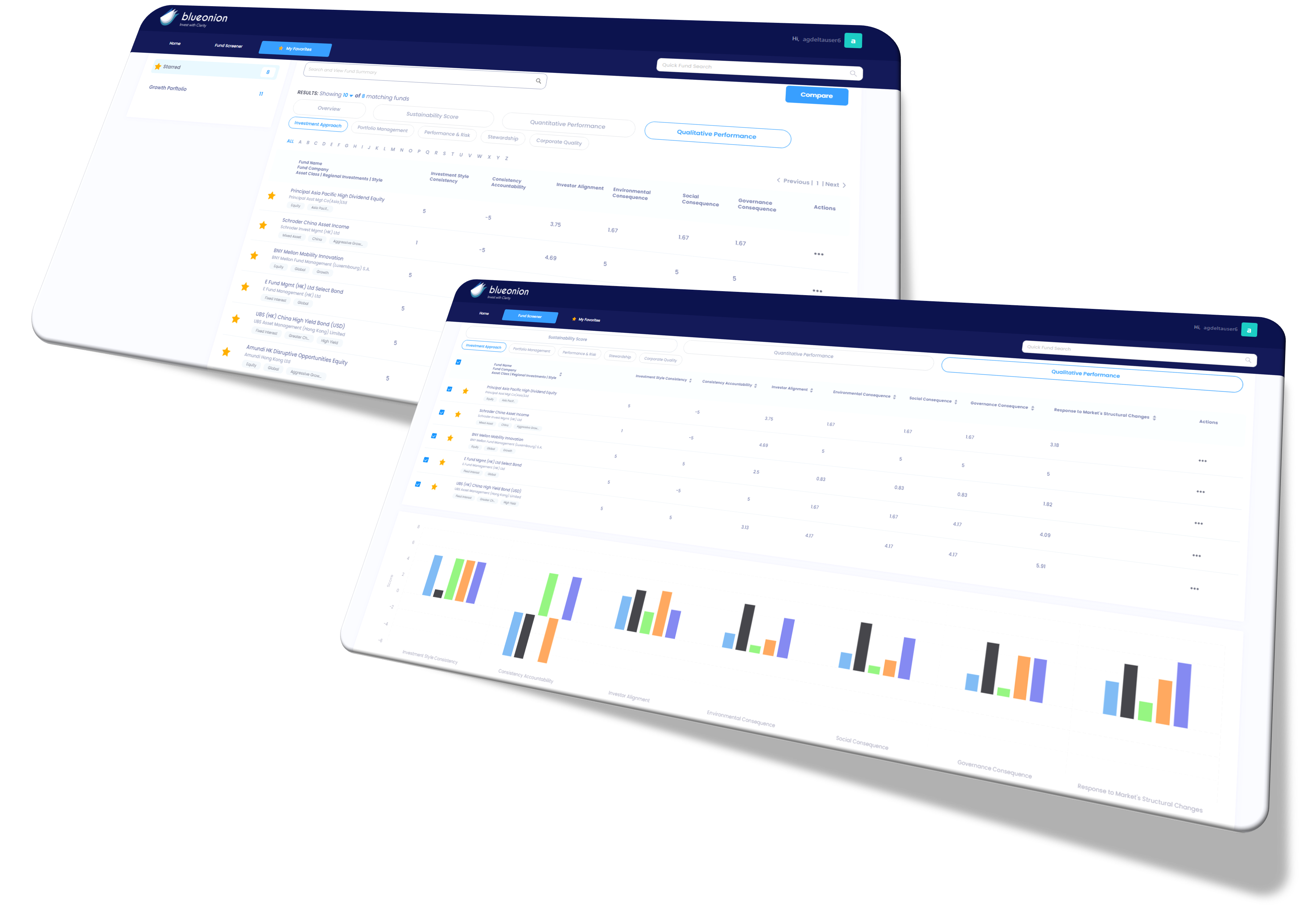 Investment Process
7 features 27 attributes of team's idea generation, principles, and approach, including investment style, accountability, market changes responses, ESG material consequences, etc.
Portfolio Construction
7 features 17 attributes of portfolio construction principles, including portfolio limits, liquidity capacity, active shares, investment and divestment bases, research resources, security weight, etc.
Performance & Risk
6 features 30 attributes of performance risks generated, including alpha sources, investor diversification, net returns above benchmark, drawdowns, recovery, stress testing, etc.
Stewardship
5 features 32 attributes towards a serious approach on the manager's engagement disclosure, stewardship principles, engagement frequency, responsible shareholding, and voting disclosures, etc.
Corporate Quality
13 features 52 attributes to reflect the parent company's corporate citizenship, transparency on key-man events and material redemptions, AUM change, skin in the game, compliance protocol, breaches and remedies, etc.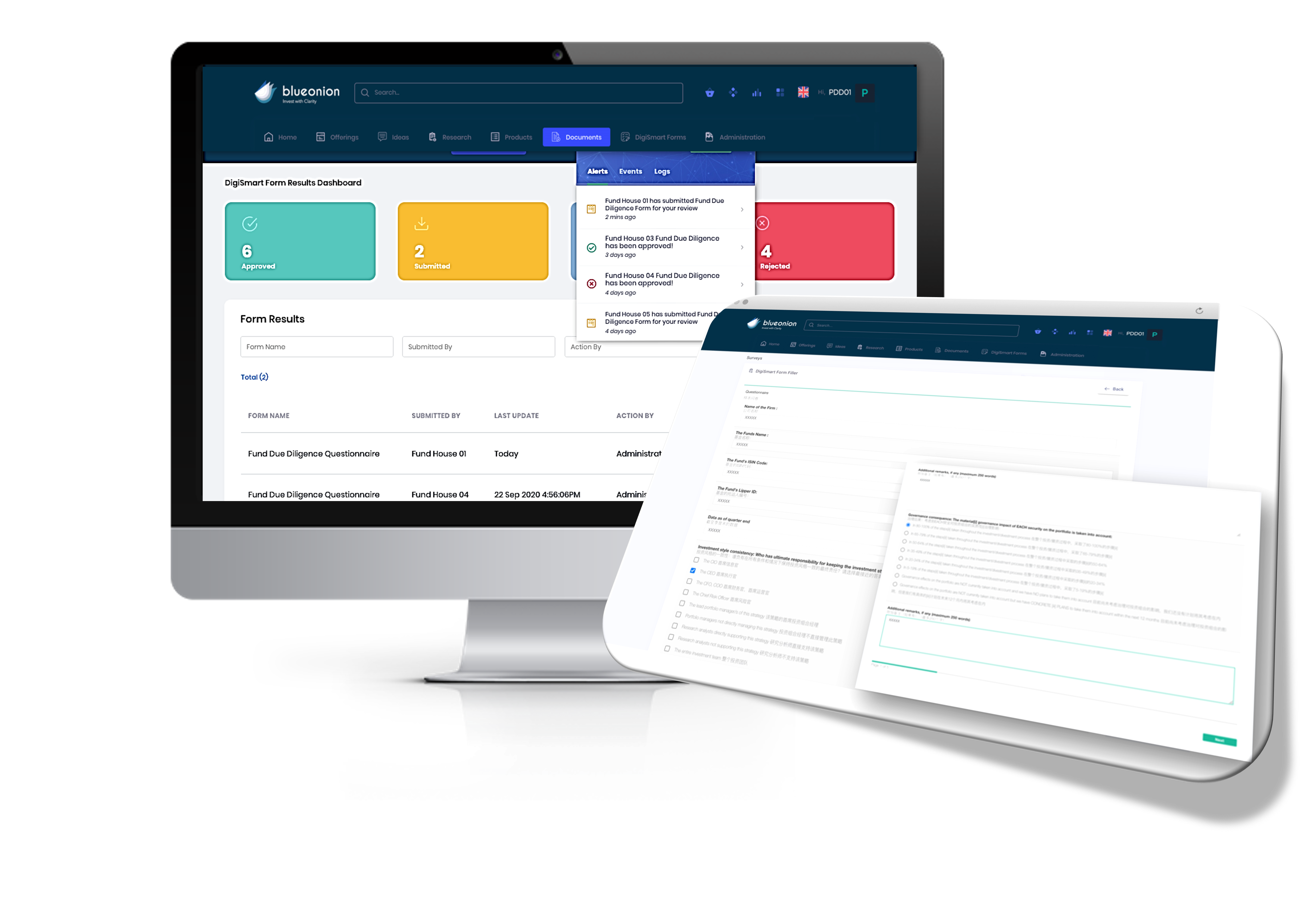 Investigate
Streamlined
Due Diligence Workflow
Interactive dashboard to manage the approval process for funds you're interested for your mandate.  View factsheets and other documentation and evaluate the qualitative feasibility using the BlueOnion metrics. Communicate with the manager directly and receive notifications when a document has been received.  Take actions for funds that are approved or rejected. 
RFP Initiation
Invite fund houses to pitch by responding to the BlueOnion DDQ, submitting suitability documents, or sending a request for additional quantitative data and stewardship reports via the BlueOnion portal.
Peer Experience
Go beyond the documents for a deeper dive, send confidential requests, and attend the annual Gatekeeper Forum to meet the portfolio managers together with your peers.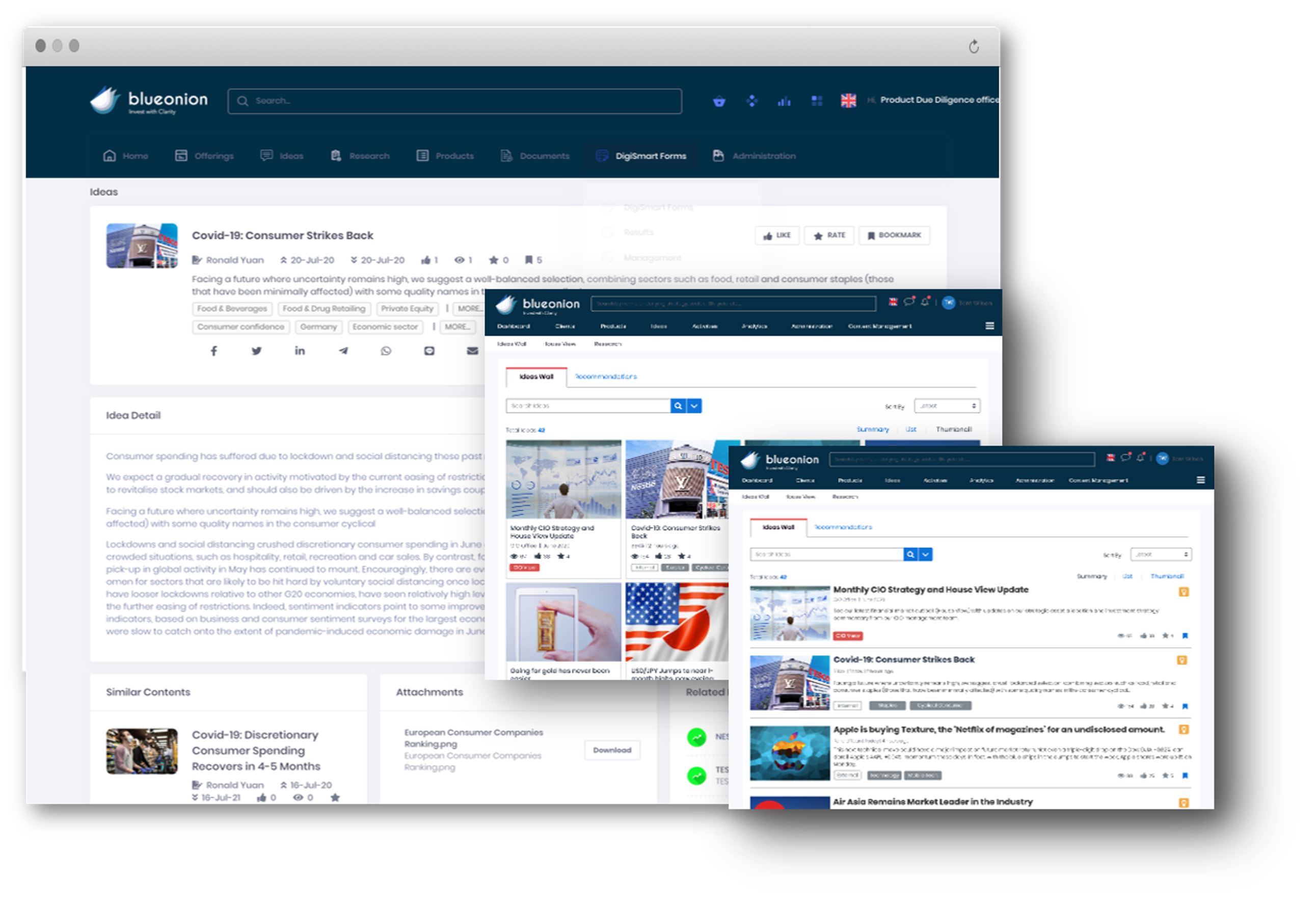 Engage
Exclusive Platform
For Manager Intelligence
A comprehensive library to feature the best-of-the-best managers and strategies selected by a prestigious panel of gatekeepers. The Gatekeeper Register is also a live forum where interviews with Fund Managers and CIOs are held annually in different time zones allowing asset owners and due diligence personnel to conduct a deeper analysis of the team and the strategies. 
Research and Ideas
Exclusive gatekeeper access to award-winning strategies packed with videos, documents, research, reports, ideas, and themes related to the fund.
P2P Commentaries
A collection of commentaries and observations shared by asset owners, gatekeepers, and consultants for peer assessment. A must-read before onboarding.
Gatekeeper Forum
A highly curated forum that connects the buy and sell-side of funds and empowers gatekeepers to look under the hood before they invest.
Get in touch
arrange for a guided
BlueOnion tour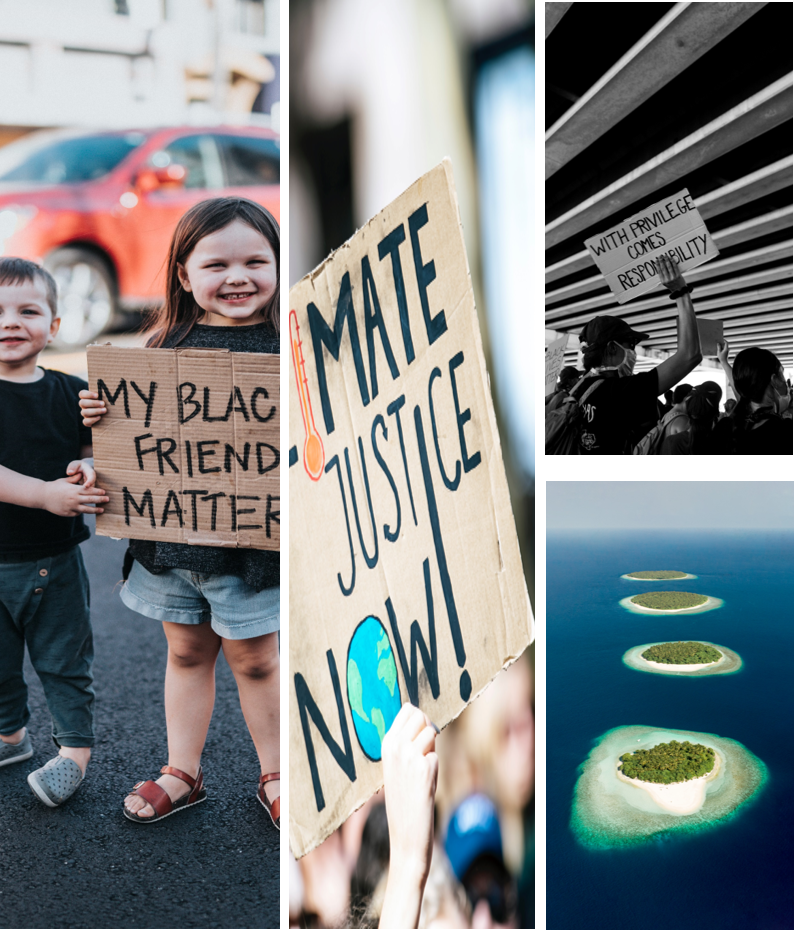 Schedule a Guided Tour Today!!!
Our Blog
Check Out
Our Latest Articles