Don't be fooled by
Shiny past Performances Big campaign budgets Smart thematic ideas
What makes a good fund to invest in is its sustainability, driven by top-down management with genuine ethics. They are the best stewards for investors' capital, and they care about the planet they operate their business.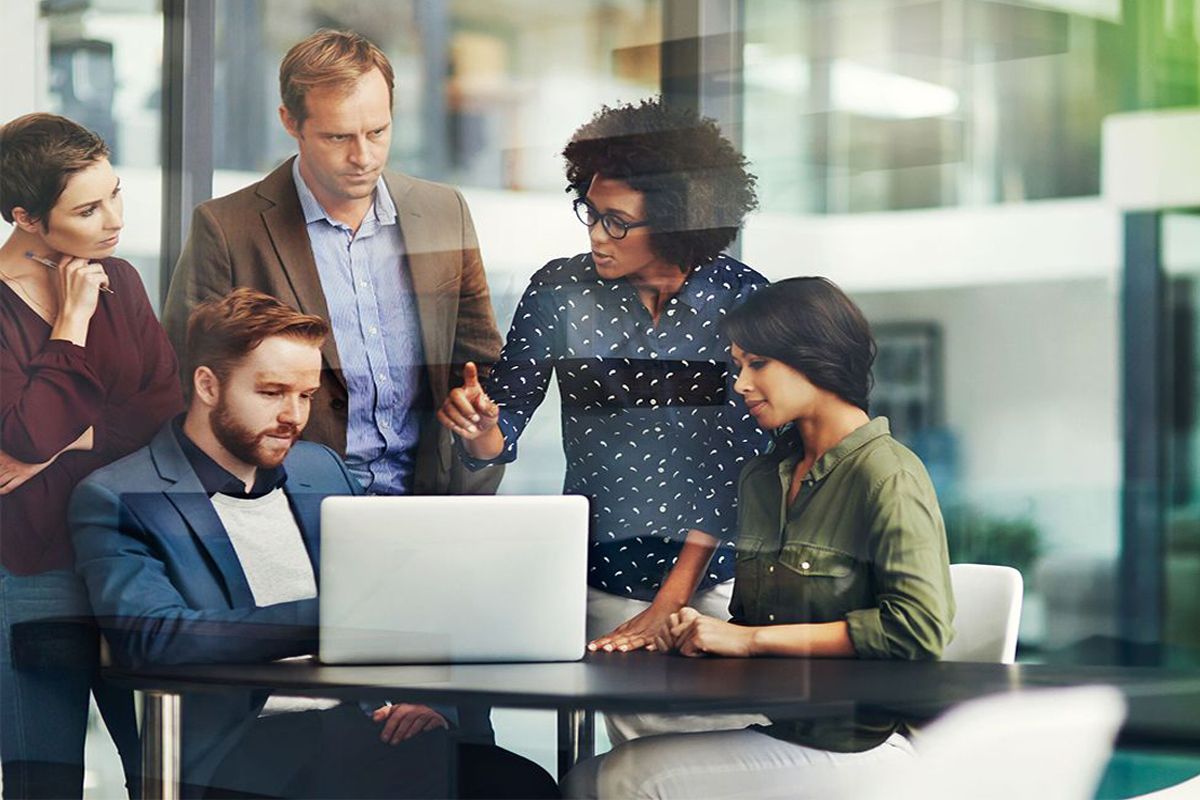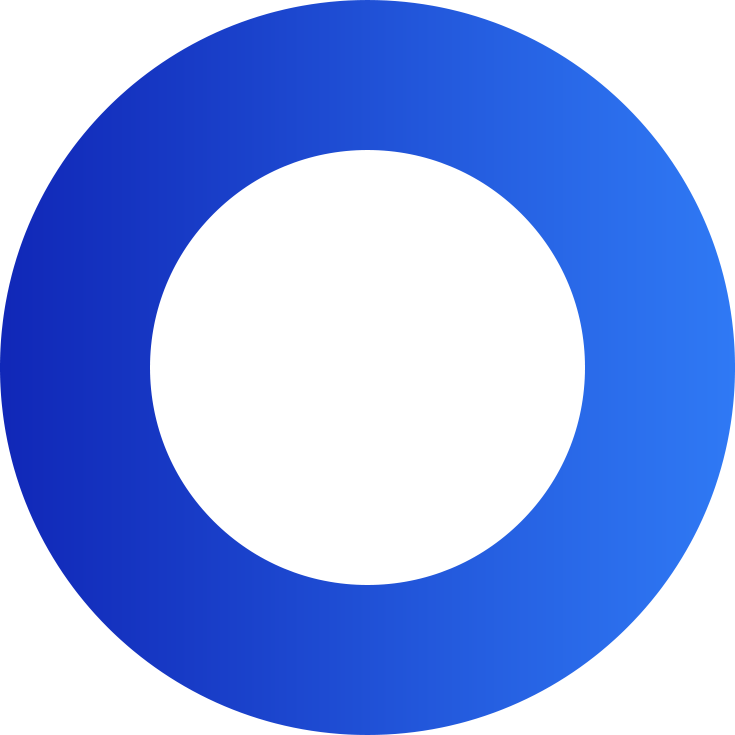 Investigative Research
Go beyond
the numbers
While many are judging their managers by hindsight performance and luck, BlueOnion seeks to confirm that managers are walking their talks and are exercising best stewardship for the investors' capital.
BlueOnion's advanced search allows you to identify the funds that are most ESG focused and the most temperature aligned quickly and easily. The sustainability-based filtering tool comes bundled with the quantitative and fundamental data on an unmtached universe of 300,000 active, passive funds and ETFs and 40,000+ companies, using 250 ESG metrics from 30,000 sources in over 100+ countries.  
Sustainability Rankings & Scoring
Qualitative Scoring & Assessment
Monitoring & Intelligence
Fundamentals & Profiling
Comprehensive & Timely
Data to fuel your research
BlueOnion allows you to focus your quantitative searches and let you drill down to the constituents of the entire portfolio to preview the companies weighting, sustainability scoring and fundmentals.
Holdings
Gives you the full holdings of each strategy and their market caps, exchanges, industries, plus their ESG, GC, and temperature exposures.
Fundamentals
The Fund level P/E, P/B, relative strength, price momentum, the managers and their tenure, turnover, etc.
Peer Comparison & Analysis
Analysis
Allows you to compare funds of the same type over 50 KPIs, including investment styles, ESG, UN Global Compact and temperature alignment.
Style & Objective Searches
Objectives
Filter funds from 9 investment styles, and over 60 investment objectives, including risk and return, ESG inclusion, countries exclusions, etc.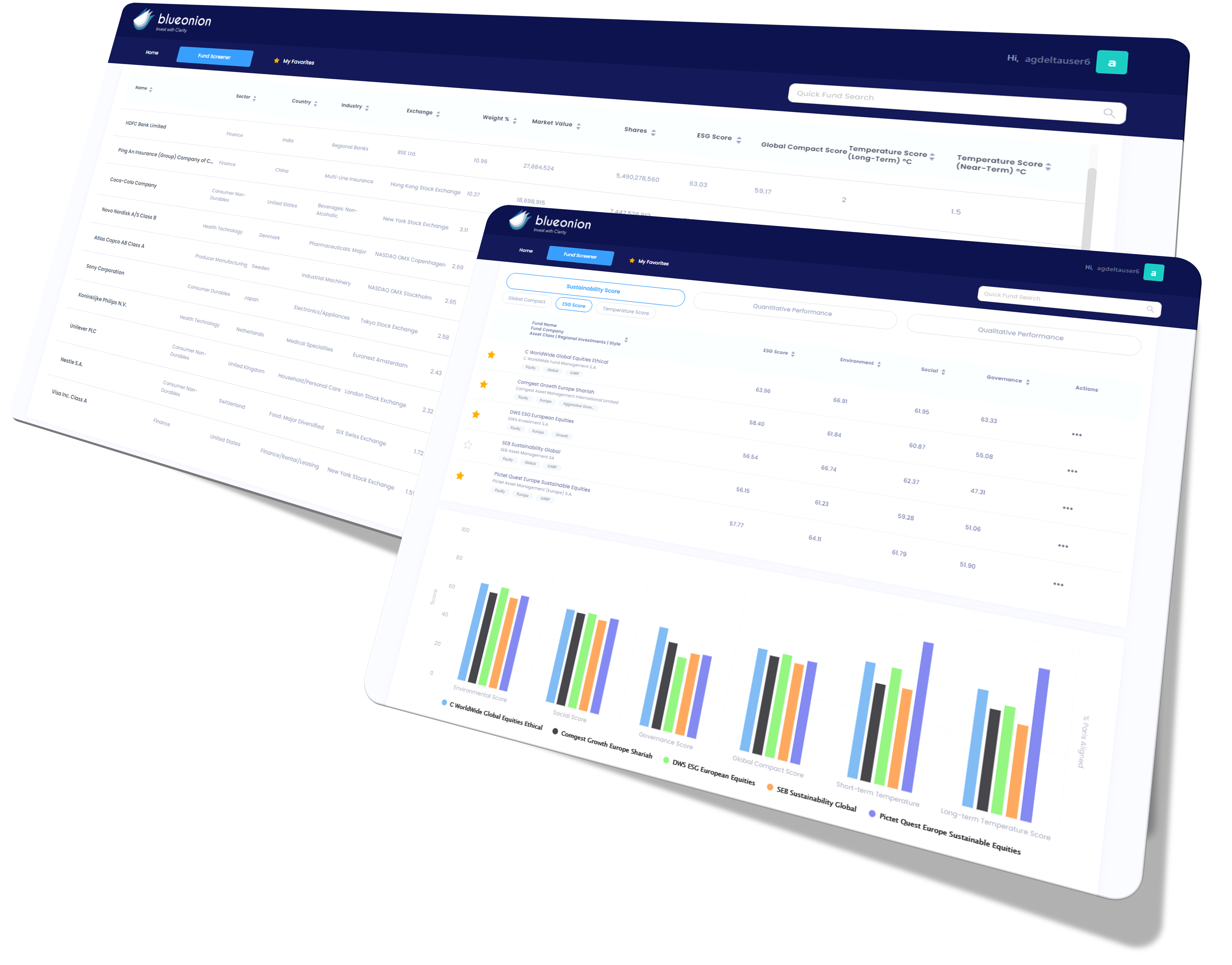 Sustainability Rankings
Risk Exposures in
ESG, GC and Temperature
Hold managers accountable with their ESG strategies by analyzing their sectors, industries, investment and divestments actions to validate that they're following their stated ESG integration philosophies. The data-driven process for outcomes reflects how they've taken materiality issues of specific ESG issues into their investment processes.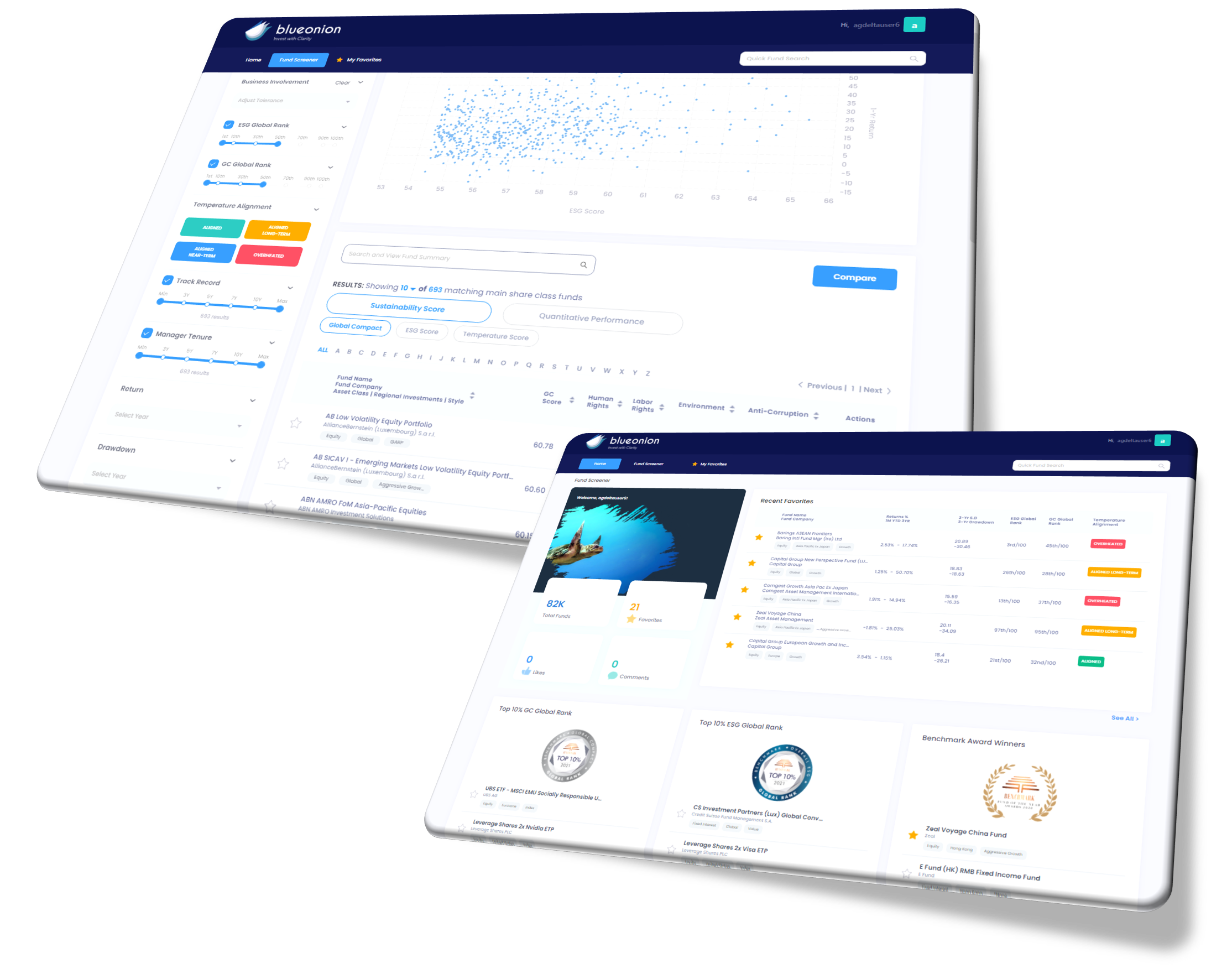 ESG Screening
Featuring 33 ESG topics in emissions, biodiversity, water, environmental stewardship, diversity, product safety, shareholders' rights, forensic accounting...
Preferences
Set tolerance for 33 personal preferences, including thermal coal, alcohol, adult entertainment, firearms, fossil fuel, tobacco, GMO, gambling, etc.
Temperature
Measure funds' global warming in 5 climate impact indicators, including near-term and long-term Temperature score, Target, Scope 3, and Trend.
Global Compact
Responsible businesses enactment towards the United Nation's GC goals for human rights, labor rights, environmental, and anti-corruption.
Qualitative Assessment
Five Pillars for
Manager Selection
The tool leverages drills deeper into a strategy. It quantifies the 41 Qualitative metrics with 189 attributes derived from over 530 inputs of the five key pillars to understand sustainable performance's potential over the long term. The feature layer aggregates hundreds of inputs along the five critical pillars of a fund's qualitative strength, rather than relying on hindsight and past performances.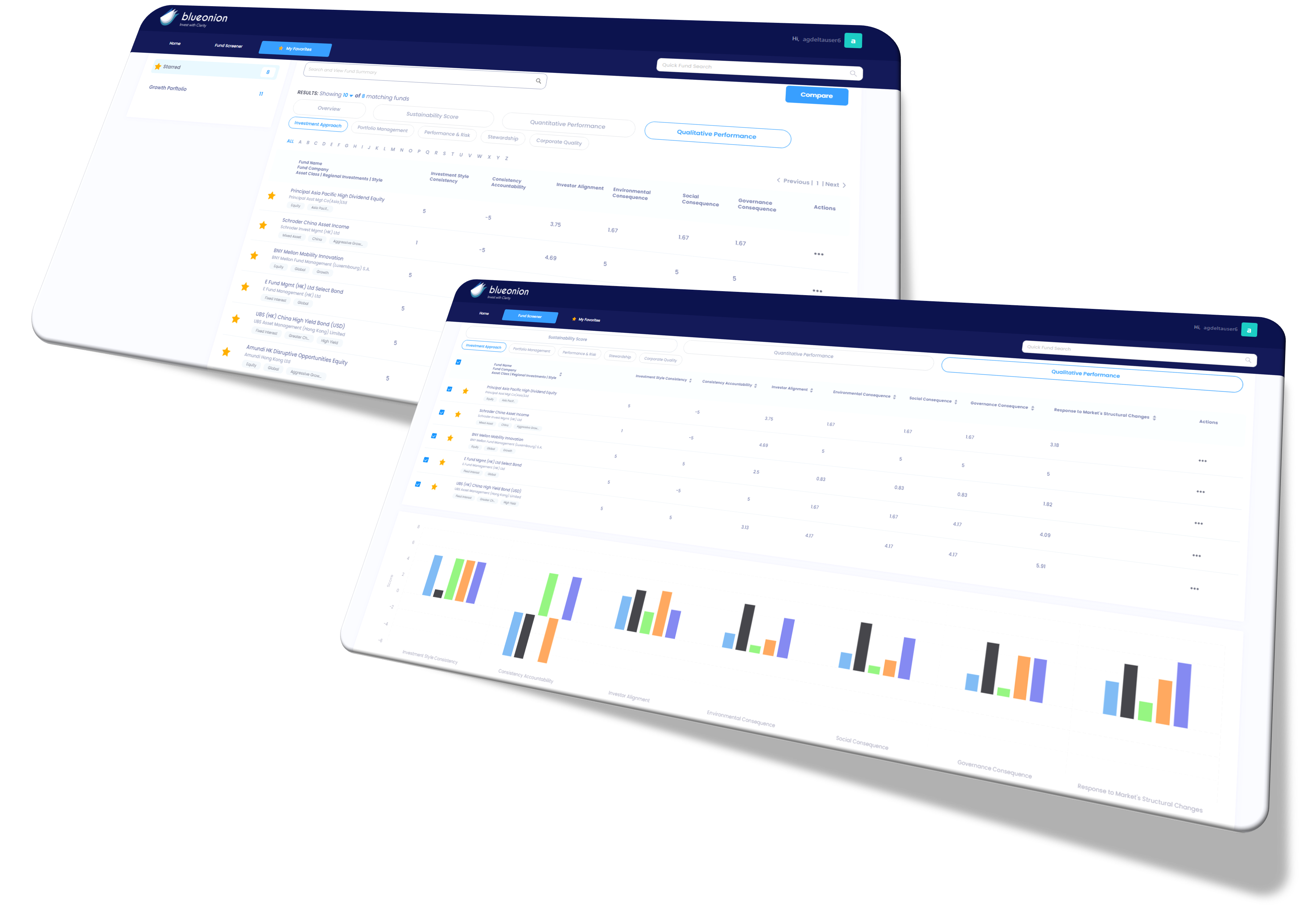 Process
7 features 27 attributes of team's idea generation, principles, investment style, accountability, ESG material consequences, market response...
02. Portfolio Construction
Portfolio
7 features 17 attributes of construction principles, portfolio limits, liquidity capacity, investment and divestment bases, resources, security weight...
Performance
6 features 30 attributes of performance risks, alpha sources, investor diversification, net returns, drawdowns, recovery, stress testing...
Stewardship
5 features 32 attributes of the manager's engagement frequency and disclosure, stewardship principles, voting policies and disclosures, responsible shareholding...
Stewardship
13 features 52 attributes to reflect the parent's transparency on key-man events and material redemptions, AUM change, compliance and reporting protocol, skin in the game...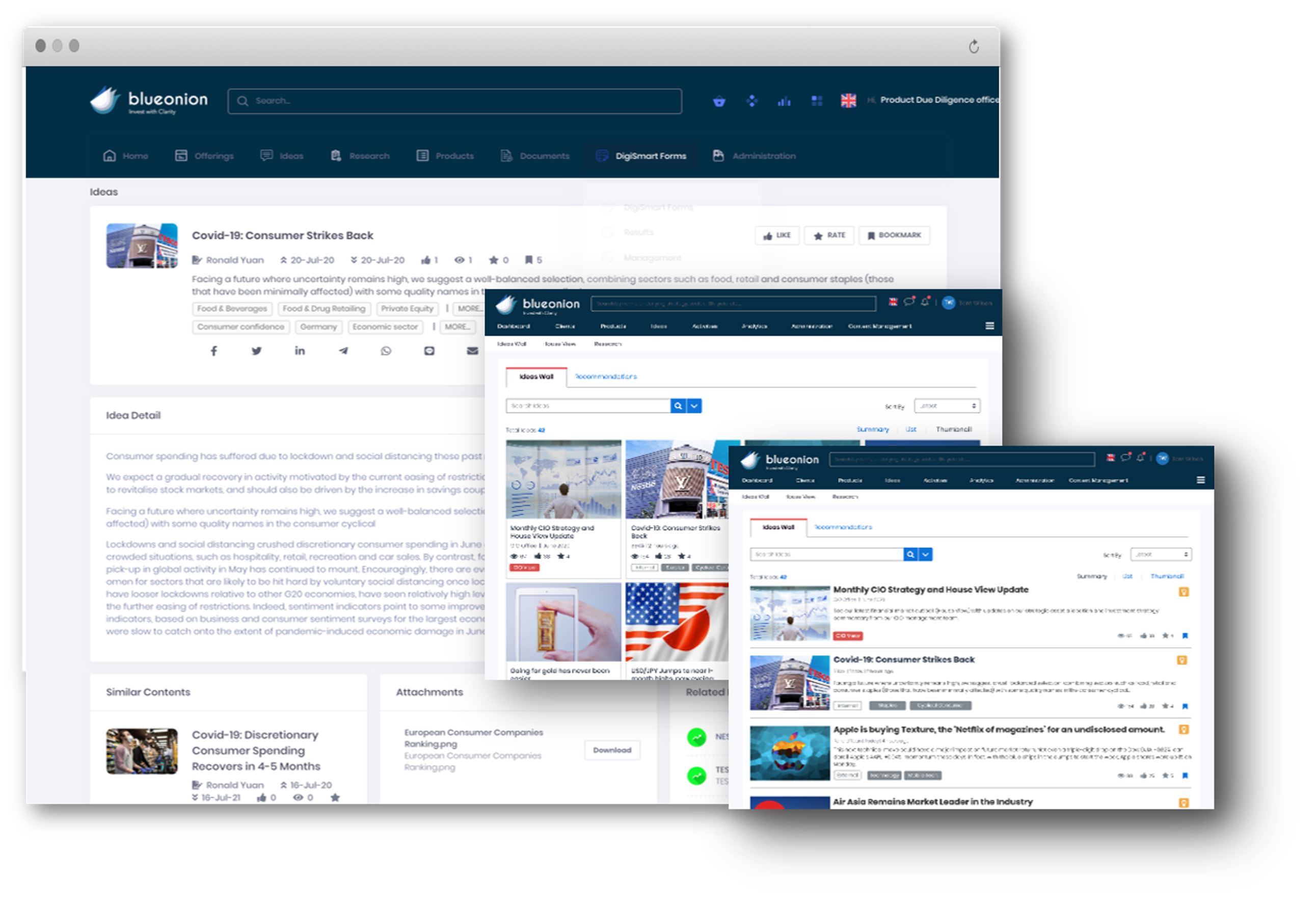 Gatekeeper Register
Exclusive Platform
For Manager Intelligence
A comprehensive library to feature the best-of-the-best managers and strategies selected by a prestigious panel of gatekeepers. The Gatekeeper Register is also a live forum where interviews with Fund Managers and CIOs are held annually in different time zones allowing asset owners and due diligence personnel to conduct a deeper analysis of the team and the strategies. 
Research and Ideas
Exclusive gatekeeper access to award-winning strategies packed with videos, documents, research, reports, ideas, and themes related to the fund.
P2P Commentaries
A collection of commentaries and observations shared by asset owners, gatekeepers, and consultants for peer assessment. A must-read before onboarding.
Gatekeeper Forum
A highly curated forum that connects the buy and sell-side of funds and empowers gatekeepers to look under the hood before they invest.
Get in touch
arrange for a guided
BlueOnion tour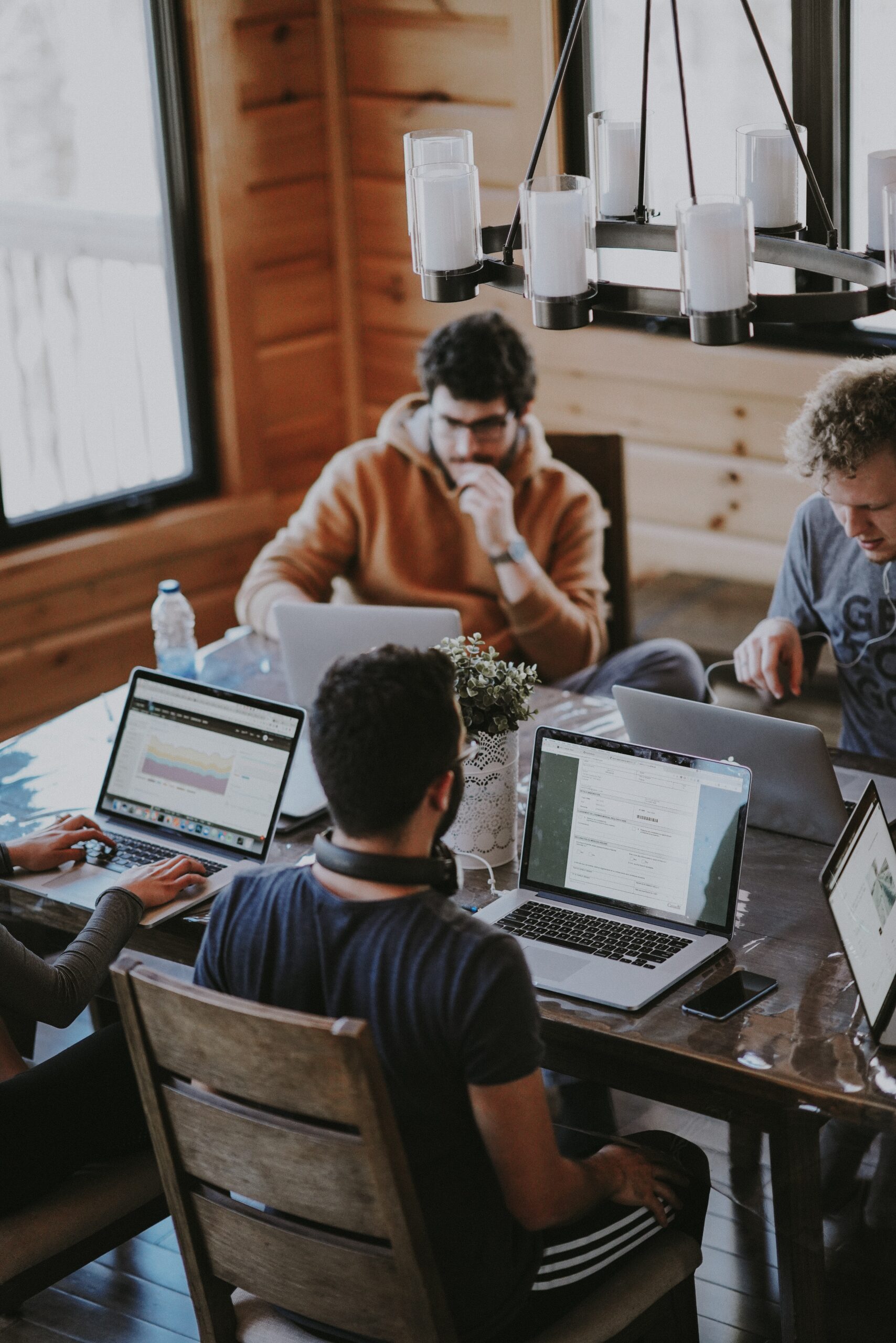 Schedule a Guided Tour Today!!!
Our Blog
Check Out
Our Latest Articles