Showcase
Your award-winning funds in front of the investors
Transparency
Walking your talk with voluntary discloures
Branding
Increase the visibility with like-minded investors
Engage
Virtual pitches to investors before mandates decision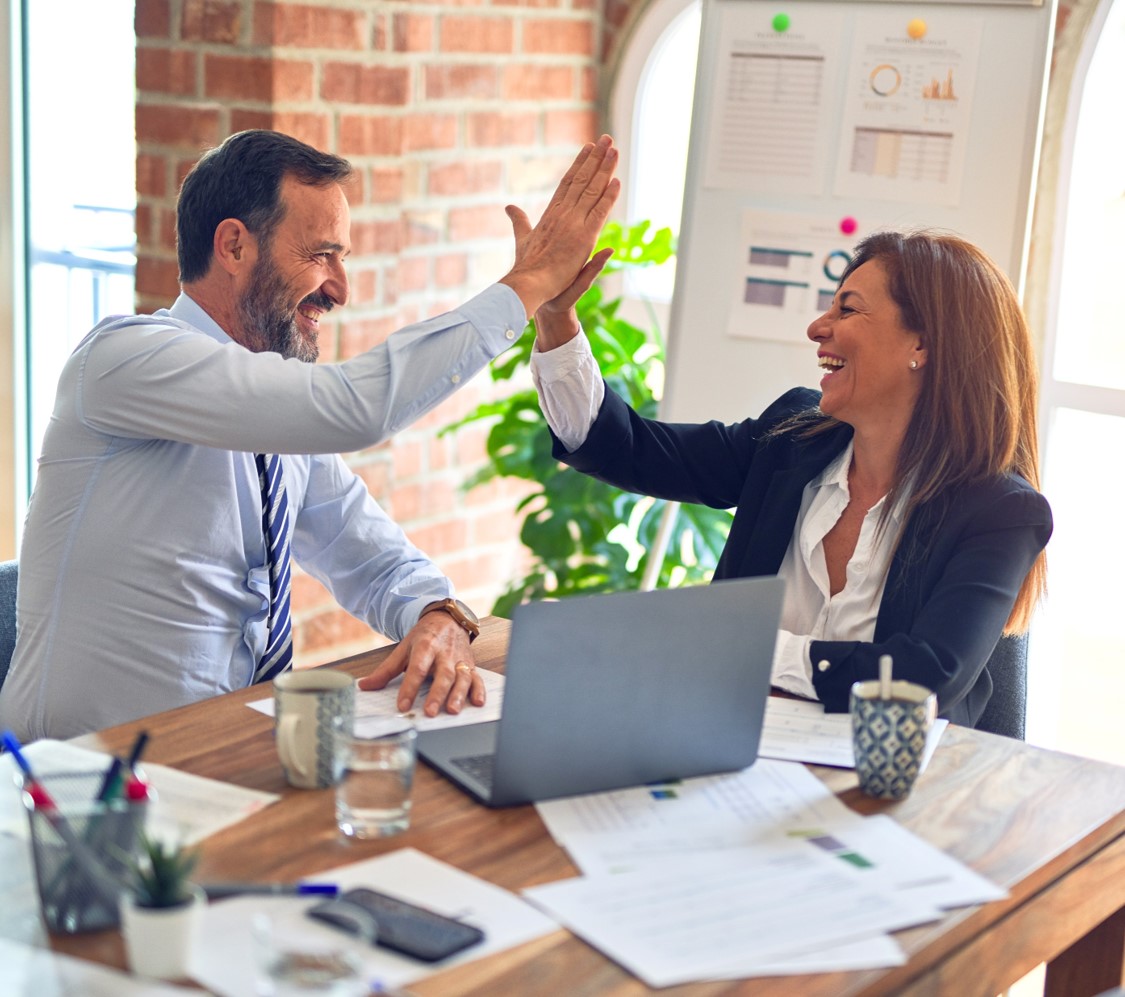 Exclusive Network
Get visible
in front of gatekeepers
BlueOnion is not just a FinTech portal but a unique platform where the like-minded buy and the sell-side of funds connect virtually and in person.  It is an end-to-end solution to help fund managers earn their attention and visibility based on merits. 
Digitized Distribution
Your end-to-end technology partner to connect you with the like-minded world's leading wealth managers, family offices, and institutional investors.
Healthy Branding
Put forward a genuine image in an exclusive, merit-based environment of gatekeepers and investors where only best-of-breed funds are featured.
Investor Relations
Gain extra miles
with the right flagships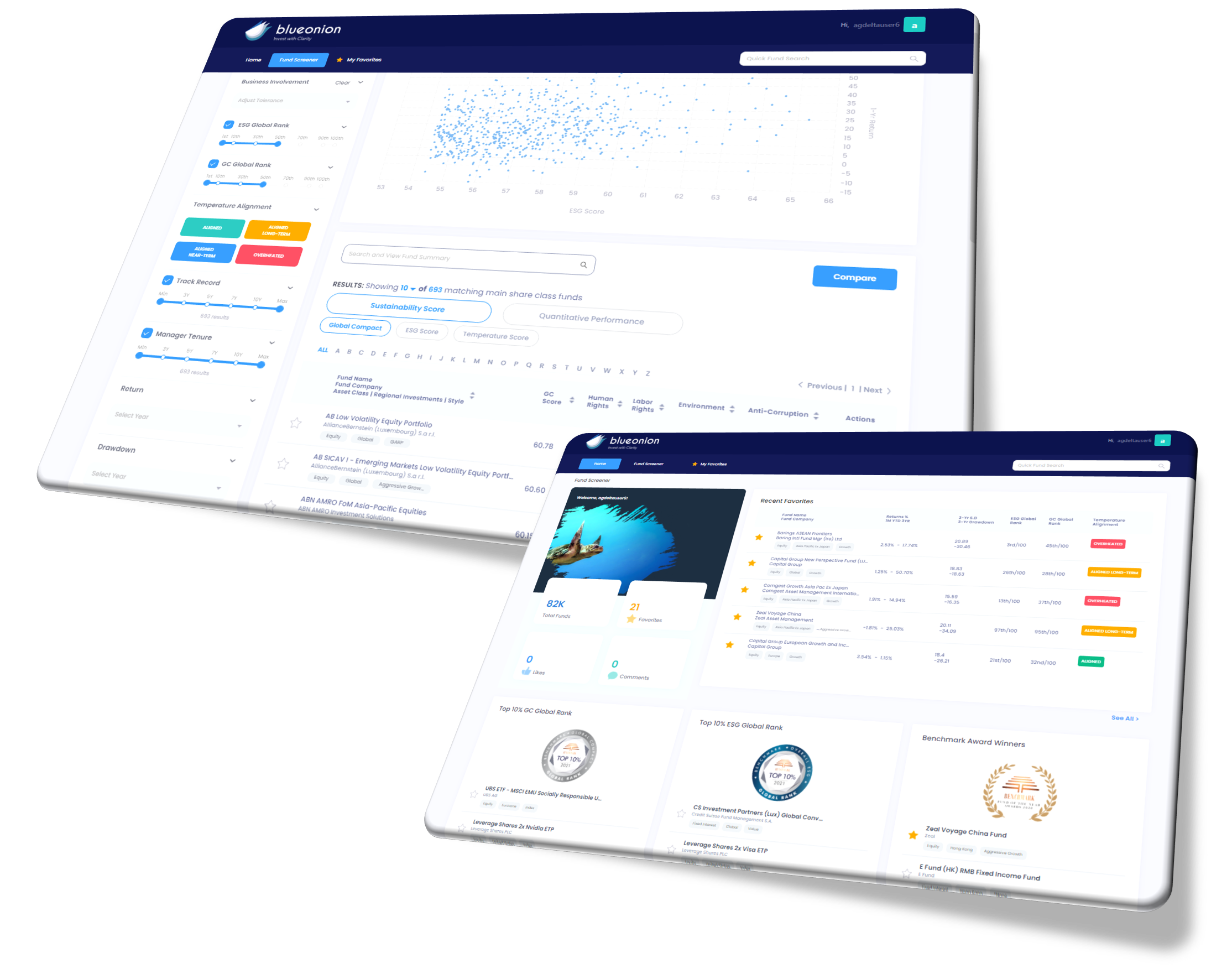 BlueOnion Gatekeeper Workbench features only best-of-breed funds that are ranked best-in-class by Benchmark's expert veteran committees made up of senior gatekeepers at private banks, institutional investors, and family offices.  Funds that are performing in the top 30th percentile ranking of ESG, Global Compact, and Temperature Alignment or the  Benchmark rated top 1% funds are encouraged to be included in the BlueOnion qualitative database.  
Offer Transparency
Past performance is not an indicator for future performance, and therefore our buy-side investors look beyond numbers and dive deeper into the strategies' 5 pillars of practices, over 41 qualitative metrics and 189 attributes.
Bespoke Peer Analysis
BlueOnion does not believe in categorizing funds in our defined buckets. We let our investors decide who they would describe as a peer group for comparisons by investment objectives, market caps, styles, sustainability achievements,...
Build Brand Awareness
Align yourself with
the best of breed
By reporting your 5 pillars of strength to BlueOnion, you will gain a presence in the most important fund research portal, and you'll be visible to like-minded gatekeepers, investors, and family offices you're trying to market and sell to.  If your data is not here, you will not be considered.  
Quantify the Qualitative
BlueOnion's algorithm consumes the 530 inputs from each strategy's investment process, portfolio construction, performance & risk, stewardship practice, and corporate quality and turns them into 189 attributes to score the 41 qualitative metrics.
Engage with investors
The hybrid model of BlueOnion allows the asset managers to engage with gatekeepers and investors virtually through the Gatekeeper Workbench, and in-person every year, through the annual Gatekeeper Forum. An investor-centric forum to assist managers onboarding more efficiently and effectively.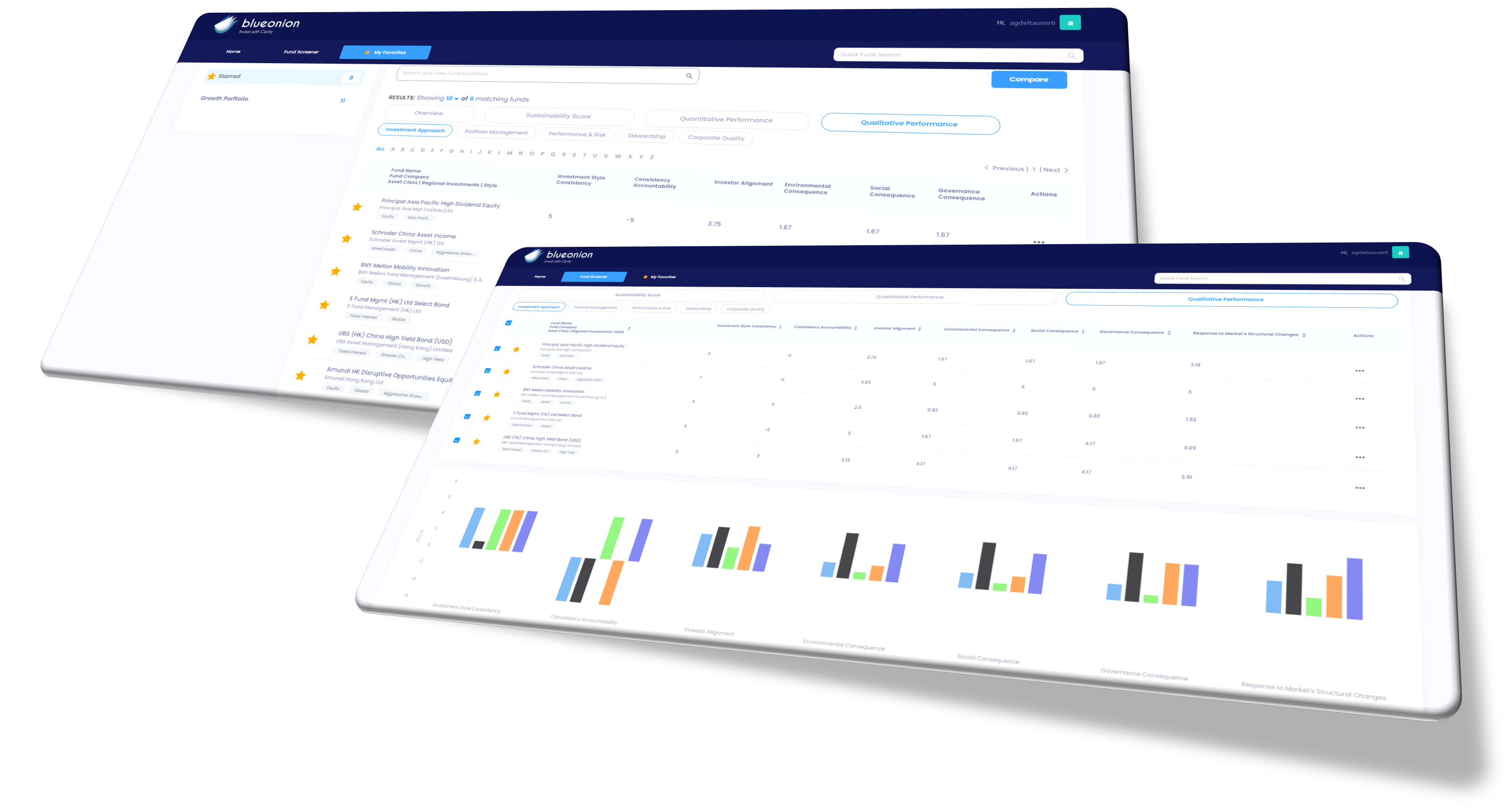 Build your Brand
Exclusive Kiosk
For Award-winning Managers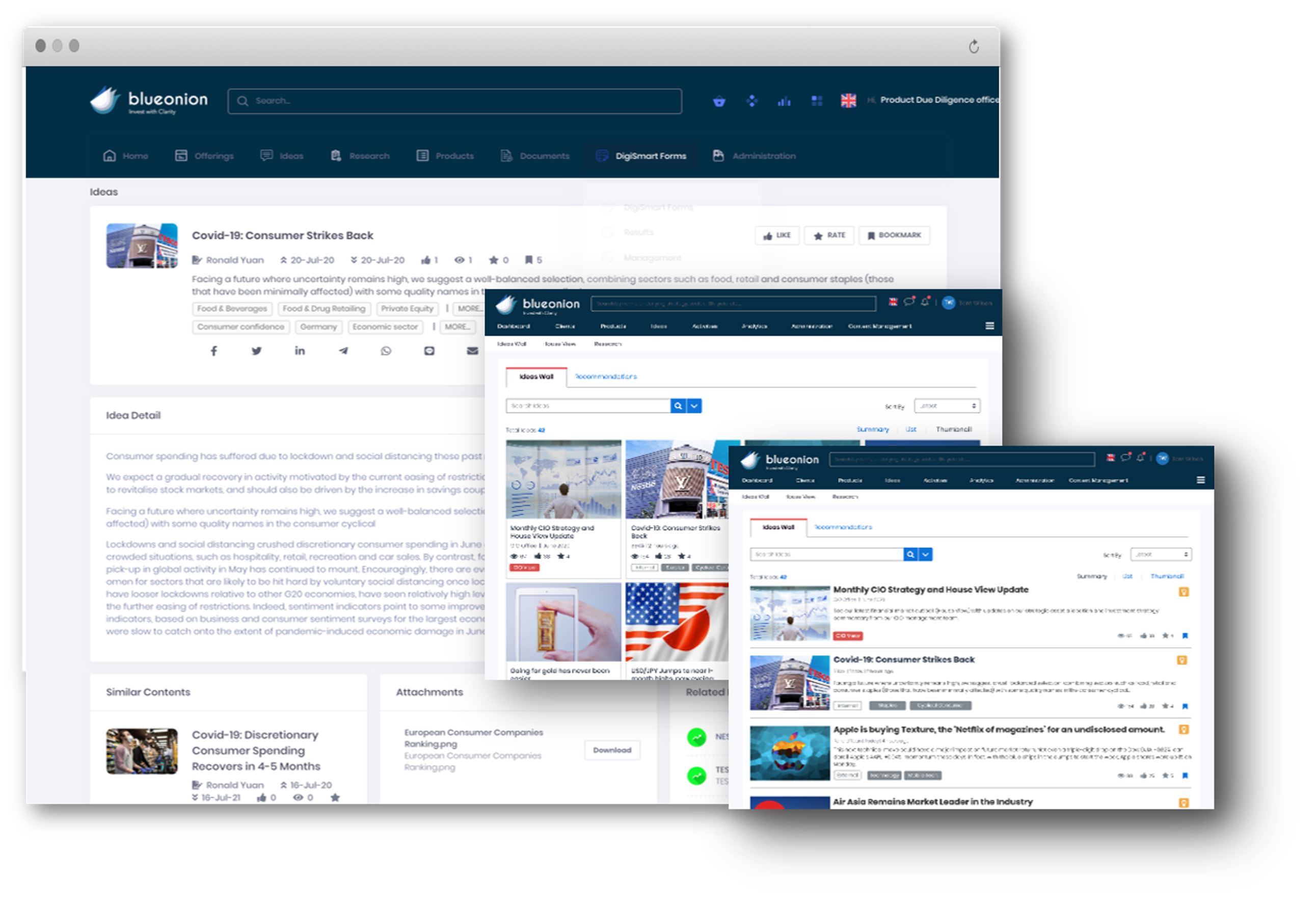 If you are one of the best, you deserve focused attention from like-minded investors and gatekeepers.  Offer your ideas, research, and commentaries to a tightly curated eco-system of serious allocators.  
Research & Ideas
Access your exclusive CMS and post ideas, research, videos, releases, and commentaries for gatekeepers who are only interested in the best-of-breed funds and be part of the Gatekeeper Selection Catalog.
Meeting the Buy-Side
Meet senior gatekeepers and investors face-to-face at the annual Gatekeeper Forum, where you will showcase your strategies and the unique competitive edge with a panel of serious asset allocators.
Get in touch
arrange for a BlueOnion
guided tour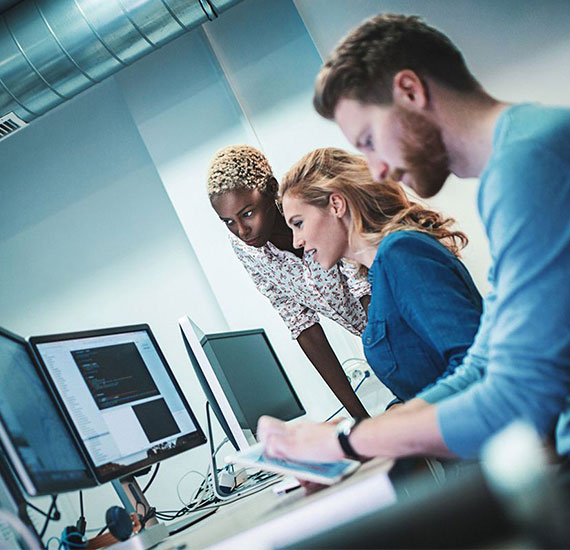 Schedule a Guided Tour Today!!!
Our Blog
Check Out
Our Latest Articles