The Task Force on Climate-Related Financial Disclosures (TCFD) released new guidance asking companies to change the way they report their emissions
It is a tall order for businesses in Hong Kong because there is a lack of guidance on how to approach the recommendations in general, according to analysts
October 14, 2021 | Martin Choi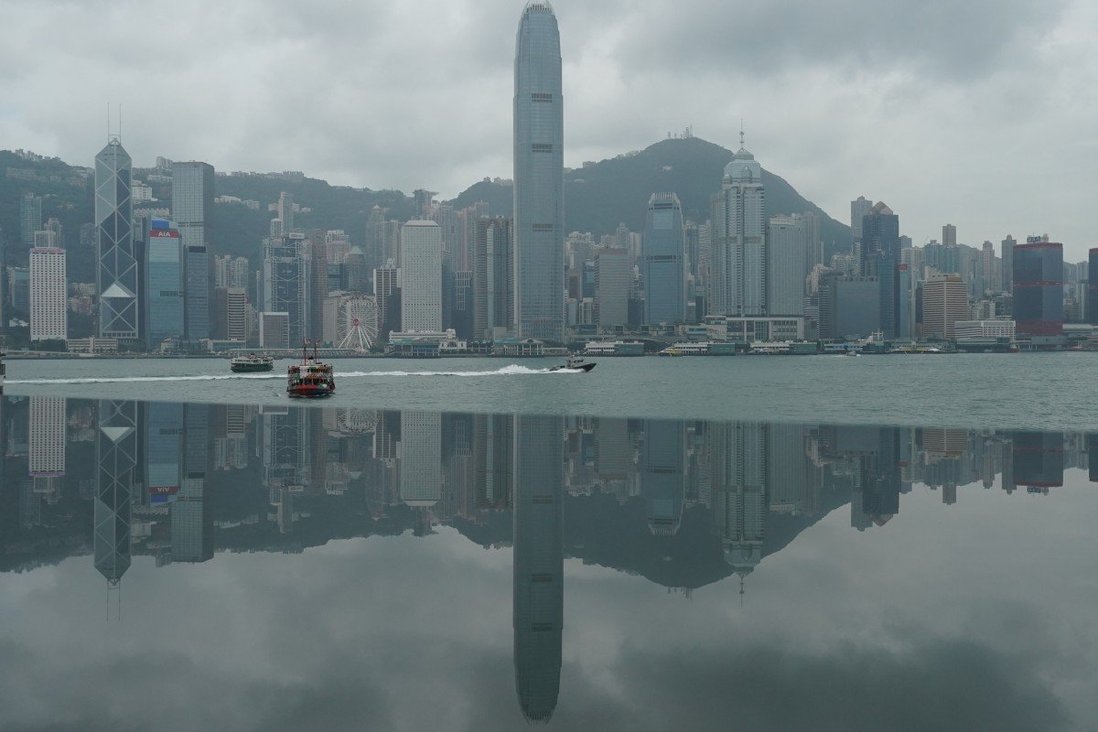 The Task Force on Climate-Related Financial Disclosures (TCFD) has released new guidance asking companies to change the way they report their greenhouse gas emissions, posing a challenge for businesses in Hong Kong as the city aims to align its listed firms with the framework by 2025.
The international organisation of 32 members, set up by the Basel-based Financial Stability Board in 2015 to develop guidelines for voluntary climate-related financial disclosures across industries, updated its implementation guidance on Thursday for the first time since the recommendations were launched four years ago.
In the revised guidelines, the task force asks that companies disclose their carbon emissions independently of a "materiality assessment", meaning regardless of whether they think it is relevant or significant for their investors or stakeholders.
It is a tall order for businesses in Hong Kong because there is a lack of guidance on how to approach the TCFD recommendations in general, according to analysts.
The new guidance applies to "Scope 1 and Scope 2 GHG (greenhouse gas) emissions".
Scope 1 emissions are direct emissions from the company's activities or those under its control, while scope 2 refers to indirect emissions from its consumption of electricity, heat, or steam, according to the TCFD.
"We felt that the technology and methodologies are there to evaluate scope 1 and 2 emissions, and that the time had come to go forward and require it," said Mary Schapiro, head of the TCFD Secretariat in a media briefing on Wednesday.
"We believe it is foundational to understanding where companies are in transition, where jurisdictions are in the transition, and what's the concentration of carbon-related assets in the economy that could actually have financial stability implications."
Some 28 companies and financial institutions in Hong Kong, including insurance giant AIA and Hong Kong Exchanges and Clearing (HKEX) that runs the stock exchange, have signed up to support the TCFD recommendations, according to its website.
"Setting metrics and targets for Scope 1 and 2 [greenhouse gas emissions] is a daunting exercise, especially as it involves knowledge of the supply chain, where data is limited," said Elsa Pau, founder and CEO of BlueOnion, which runs a financial portal that tracks sustainability data on 8,000 companies and 147,000 funds.
"Companies will only start taking climate reporting seriously when they see risks on their share prices and profits due to systemic climate risk issues, such as carbon price risk across operating geographies, and we need investors, including asset managers' demands to keep reporting up."
Companies in Hong Kong are also struggling to determine the right starting point to meet the TCFD's recommendations, said Mohit Grover, Deloitte Hong Kong partner, and leader of the climate and sustainability team.
"To start with there is a lack of education on the topic at the board level, a shortage of time for boards to consider these issues and a potential lack of motivation," said Grover.
"In the short term, it is hard to determine the business advantage on being a leader on managing climate risks.
"There are clear indications that implementation will take place over time, but there is still much peer learning to be done on how to apply and report against the TCFD recommendations."
The TCFD's guidance was published in 2017, requiring scenario planning for different levels of global warming, and the disclosure of both medium- and long-term emissions targets.
HK's hot and cold days annually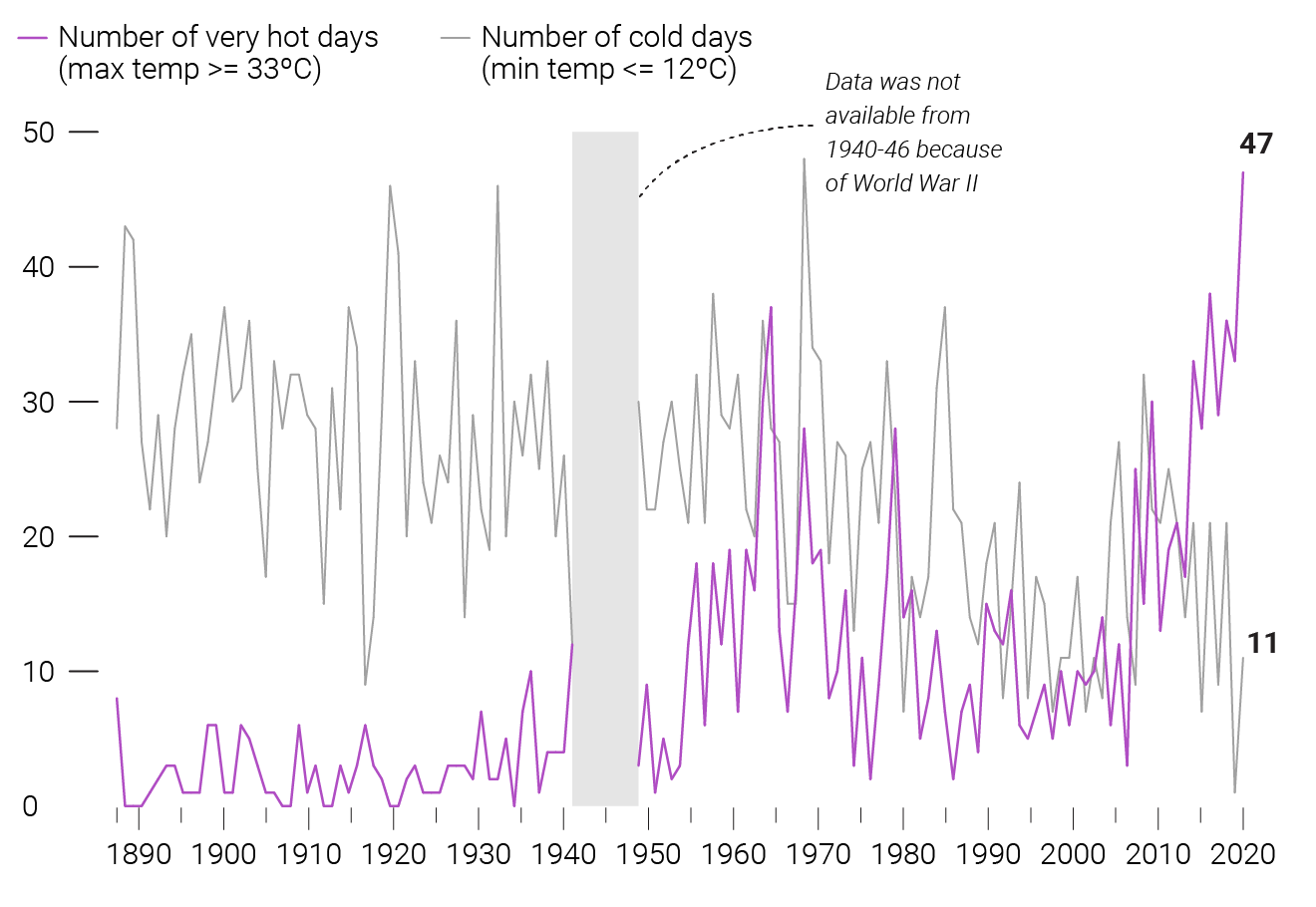 International standard setters and regulators have expressed support for aligning their efforts with the TCFD guidelines, including the G7 and G20 finance ministers and central bank governors, and the European Commission.
In Hong Kong, a cross-regulatory agency steering group led by the Hong Kong Monetary Authority and the Securities and Futures Commission announced in December that it aims to align listed firms' climate-related disclosures with TCFD recommendations by 2025.
Since last September, the number of companies globally supporting the TCFD recommendations has grown by over a third, bringing the total to over 2,600. They now span 89 countries and nearly all sectors of the economy, with a combined market capitalisation of over US$25.1 trillion – a 99 per cent increase since last year, according to the task force's 2021 status report, also released on Thursday.